Along with the Lioele Beyond Solution BB Cream (see previous review), I also grabbed myself an Etude House Fresh Cherry Tint. This is a subtle, natural lip tint that's slightly liquid in consistency. Unlike the Benetint lip stain, this formula is not runny but slightly creamy, yet not to the extent of being a gloss. It comes in 3 different shades (#1
Cherry red
, #2
Cherry pink
, #3
Cherry peach
), which I picked #3 in Cherry Peach. I find peachy pink colors to work best for my skin tone :).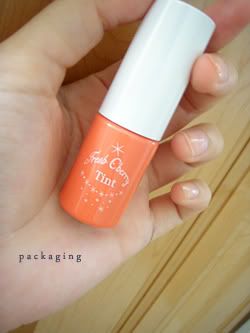 The bottle may look orange, but fear not, the product is not that concentrated in color! There is 9.5g worth of product in the little bottle and lasts for a fair amount of time.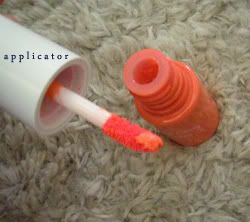 Shot of the applicator. The tint itself is a warm coral/peach pink and is slightly sheer when applied. The tint IS buildable, and the more you layer it, the more concentrated and vibrant the color. The tint comes with a fluffy doe foot applicator, which is a huge dilemma. While I love the soft texture and smooth application, the "foot" does end up absorbing most of the tint.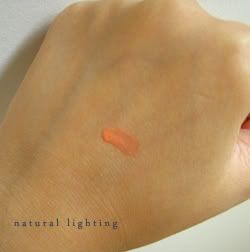 Photo is taken in natural lighting. Here you can see the extent of the tint's peachiness. Very warm and lovely, IMO :). The texture is very milky and gives a nice cooling sensation when applied, unlike regular lip gloss (I detest the gooey feeling of glosses, yuck).

Naked lips! Please excuse the huge, screen blocking godzilla pimple, it's a new semester and it's killing my skin right off the bat.

After applying one layer of the tint you can see, it gives off a very natural and subtle stain, and is very close to the advertised photos.

The photo was taken immediately after the application. But as time passes, the tint begins to sink into your lips and darken into a stain. I wanted to take a photo but my camera decided to kill itself :(.
Because my lips are often dry, I have a problem with most lip stains and tints. It tends to exaggerate the lines and dry areas. Sadly, the longer you have the tint on for, the drier it becomes, so it's a good idea to have lip balm handy. You can also finish it with a thin layer of gloss, but I rarely do that because I dislike the greasiness.
On the other hand, the
staypower
of this tint is incredible! The swatch I placed on my hand now leaves an inky stain that's almost impossible to rub off.
Because of its runny consistency, I've tried it as a cheek tint as well. And not surprisingly, it works really well! Great if you like a natural flush of color.
Summary:
Raves
- Milky, slightly creamy texture and gives off a cooling sensation
- Very natural tint that is buildable
- Nice staypower, even after eating
- Sweet, fruity scent that's very subtle
- Small, convenient bottle packaging makes it travel-worthy
- Can be used as a cheek tint :)
Rants
- A bit difficult to spread evenly due to its runniness, so fingers are needed to help spread evenly, this is partly because of the doe foot applicator and how absorbent it is
- A little drying, but can be fixed with a balm
- A little product doesn't exactly go a long way. Product won't last exceptionally long like Benetint because of the applicator and creamier consistency.
So all in all, the Etude House Fresh Cherry Tint deserves a 4/5. My next target is the Etude House Dear Darling Lip Tint in berry red. Hopefully I'll get my hands on it for a review. Thanks for reading! -3-